» Artist Bios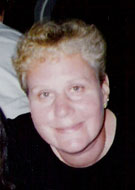 Susan Unger
songwriter/producer/comic/musician/emcee
There is no other performer quite like Susan Unger!!!
As a musician and comic Susan brings a fresh outlook to life as a single lesbian. Her act, which combines comedy and music, offers refreshing slants on everyday issues such as therapy, family and marijuana. Many years ago Susan performed as a vocalist and musician with a six piece all women country-rock band named Three Penney Opera. In an eight year run this band was the highlight of the country rock scene in New York. The band played at prominent clubs such as: The Lonestar Cafe, O'Lunneys, City Limits and Sundance. Susan not only became the strongest, hot-rockin'mama singer in the group but she was also instrumental (excuse the pun) in creating a warm and humorous presence as spokesman for the band both on stage and off.
Eventually Susan left the band and tried to maintain a quiet, unassuming life nestled in the daily grind of a forty hour a week day-job. But Susan needed more creativity in her life and an outlet for all of that music and stage experience. So in November 1999 Susan followed her heart and the prompting of close friends and embarked on a new stage experience by debuting at Carolines comedy club in New York City. Well, needless to say, Susan wowed the crowd with her humor and original songs and she has never looked back. She continues to base her act out of New York City and has been a regular at clubs such as The Duplex, Gotham Comedy Club, The Comedy Cellar, Don't Tell Mama and Stand Up New York.
"Live From The Greenhouse" is Susan's first solo release and the buzz is strong. The combination of quality songwriting (comedy or serious) in a classic package is irresistible and leaves you wanting more. So if your are in need of an original, funny, musical, and professional entertainer-don't hesitate-check out Susan Unger now. Your funny bone and your ears will be glad you did!!!
---